Daikin HVAC Technology in New Orleans
Financing for new systems available
The Daikin Fit system is a side discharge condenser, smart communicating HVAC system that won't compromise on comfort and connects to standard ducted solutions in most homes.
The low profile outdoor unit offers solutions where a traditional cube style cannot. The outdoor unit is extremely quiet and can fit almost anywhere, and wall mount brackets can suspend the outdoor unit to avoid floodwater.
Humidity and temperature levels are more consistent with longer, quieter low speed system run times compared to traditional one speed systems. No need to turn up the TV volume to have indoor air comfort with Daikin FIT.
Systems are available with heat pump, gas or electric heating capabilities.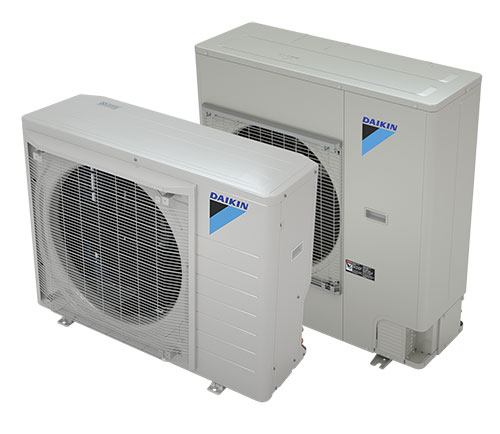 Daikin Fit: Space-Saving, Efficient, Affordable.
Daikin Benefits:
Up to 18 SEER
Inverter (variable-speed) Compressor – Ideal indoor comfort and efficiency
Low operational sound levels – Reclaim outdoor space
Quiet-mode – Provides enhanced acoustical comfort
Blue Fin Corrosion Coating – Long condenser coil life and reliability.
Swing Compressor – Quiet and dependable
Side panel access – Ease of service for annual maintenance
Compact and lightweight – The trunk style outdoor unit is perfect when installation space is limited.
BACKED BY A 12-YEAR PARTS LIMITED WARRANTY* AND A 12-YEAR REPLACEMENT LIMITED WARRANTY*
Complete warranty details available from your local dealer or at www.daikincomfort.com. To receive the 12-Year Unit Replacement Limited Warranty and 12-Year Parts Limited Warranty, online registration must be completed within 60 days of installation. Additional requirements for annual maintenance are required for the Unit Replacement Limited Warranty. 
For more information on the Daikin FIT system or to set an appointment for a free quote call us at 504-488-0826.